Fall means 'Back to School', Cool Days and School Pictures
Fall is a wonderful time of the year.  The weather starts to change and everyone is winding down from the rush of a busy summer.   We are back on schedules and starting a new school year with new friends and new teachers.  We start our kids off the new school year with a new bookbag, lunchbox, school supplies and of course….new clothes!
Our Fall/ Holiday 2012 collection is filled with fun, unique designs that will have you prepared for every second of the season!  We even have an outfit this season to carry you through Valentine's Day…poor holiday always seems to get left out!  More on that later 😉
Our A-Line Apple Jumper and Apple Jon Jon are down right stinkin' cute!  It reminds me of my childhood.  Simple designs, traditional styles.   It's funny how you can remember your favorite outfits from when you were a child.  I love that though!  It brings me back to certain memories that bring up so much fun and also big moments in life!  Thank you mom for all those wonderful outfits as a child….especially for my favorite Ronald McDonald sneakers that I never wanted to outgrow!  I still think they went great with my dresses 🙂
Our girls A-Line Apple Jumper has applique apples which are also pockets!  If you love ric rac, you will love this dress!  The thick white ric rac jumps off this dress!  It is the perfect finish.  This girls applique dress is perfect for school pictures!  Our boys Apple jon jon has an applique apple complete with a worm.  Now, what little boy wouldn't get excited to have a  worm on his clothing?  Both outfits are on a royal blue corduroy fabric.  Peter pan shirts are also available this season!!
We have lots of fun incentives this season to host a show or become a rep!  Don't be shy, have a party!  Invite your friends over and shop!  Host incentives start off at $500, that's it!  If your show sells $500 (think about it, that's only a handful of friends) you earn a FREE outfit and a discount off your clothing.  The more you sell, the more you earn.  Want more?  Become a rep and earn up to 45% off your CMC clothing, earn FREE clothing, and get paid CASH commission.  Email us to get started at laura.anne@crescentmoonchildren.com   There are no fees to become a rep or to host a show!
Link to purchase the A-Line Apple Jumper:  http://crescentmoonchildren.com/?product=a-line-apple-jumper
Link to purchase the Apple Jon Jon:  http://crescentmoonchildren.com/?product=apple-jon-jon
Thanks for allowing us to dress your little ones!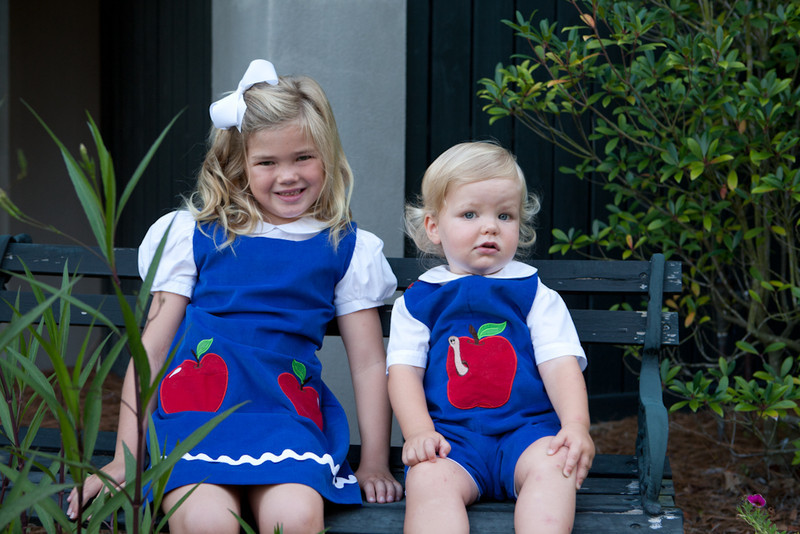 http://crescentmoonchildren.com/wp-content/uploads/logo-cmc-340x156-trans-left.png
0
0
admin
http://crescentmoonchildren.com/wp-content/uploads/logo-cmc-340x156-trans-left.png
admin
2012-07-24 20:31:18
2012-07-31 17:51:38
Fall means 'Back to School', Cool Days and School Pictures