Crescent Moon Children is located in Charleston, South Carolina. My husband and I started the company after having children of our own and seeing a need for a clothing line that offered a sportfishing line as well as seasonal outfits.  The idea is for families to be able to return to our line and still be able to match older children with the younger children in our sportfishing line. Families can also discover new outfits in our seasonal collections.
Our seasonal collections are launched twice a year and are sold through in home trunk shows and through our website. Our Spring/Summer collection is availbale January through June and our Fall/Winter collection is available July through December.
Our designs are created from our passion for the outdoors and our everyday lives. We have smocked girls dresses and applique dresses with shrimp, alligators, labs, fish and so much more! We also have smocked shortalls and applique boys clothing in matching designs for siblings!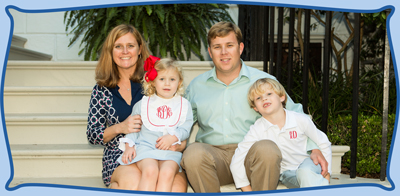 We always love to hear from our customers and any ideas you may have! Thank you for allowing Crescent Moon Children to dress your little ones and for allowing us to be a part of your memories.
Sincerely,
Caroline and Brian DeMille